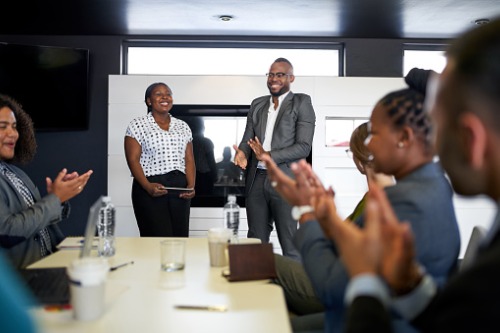 The BlackNorth Initiative, launched in mid-2020 amid widespread calls to address racial injustice across Canadian industries, now has the support of more than 400 Canadian business leaders – with a combined value of $1.3 trillion – on board.
The BlackNorth CEO pledge is aimed at rooting out systemic racism by ensuring that come 2025, Black leaders hold at least 3.5% of executive and board roles and Black students make up at least 5% of student workforces.
Wes Hall, an industry leader who established The Canadian Council of Business Leaders Against Anti-Black Systemic Racism and announced the creation of the BlackNorth Initiative, said that the deep-rooted issues of bigotry are not just for the government to solve.
"We know where business goes, government and others will follow. That's where the jobs are. That's where ingenuity is." Hall told the Financial Post. "If [the business community] decide we are going to work collectively to eliminate the barriers Black people face, we can make a significant difference in breaking down systemic racism in less than a generation."
The Initiative has already established partnerships with multiple quarters of the Black Canadian community, with the intention of funding a mental health support service for Black youth, a cultural centre focused on the manifold contributions of Black people in Canada, a foundation aimed at developing Black-helmed businesses. Aside from many of Canada's largest banks, the Canada Housing and Mortgage Corporation has also signed the pledge.
Hall stressed that ensuring lasting justice for Canada's most marginalized groups would be a protracted, concerted effort.
BlackNorth's most ambitious and potentially transformative project is the creation of a $65 million Homeownership Bridge program intended to provide Blacks and other minorities improved access to affordable housing. The goal is to construct 2,000 homes across Canada to help Black families build home equity.
Hall says the Black Business Development Hub and the Homeownership Bridge program should help people of colour in Canada create the kind of generational wealth that can transform a family's future.
"If we start to fund these programs and show the market and the community that good things are happening, the programs will grow," Hall said. "In the next 20 years, we will have massive change in society. Meaningful change. We have the roadmap to do it. We just need the will."
by Ephraim Vecina 10 Feb 2021SHARE
https://www.mortgagebrokernews.ca/news/blacknorth-initiative-now-has-more-than-400-canadian-executives-onboard-337701.aspx?utm_source=GA&utm_medium=20210210&utm_campaign=MBNW-Newsletter-20210210&utm_content=CAB225E9-A56E-4453-BA7A-30CBD695B619&tu=CAB225E9-A56E-4453-BA7A-30CBD695B619