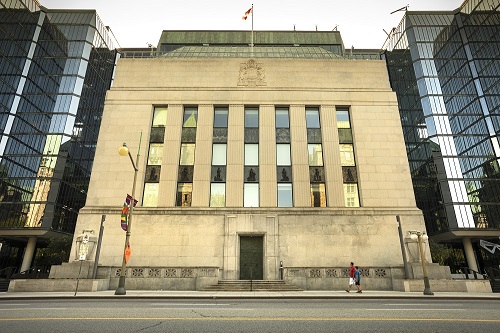 In its latest policy announcement today, the Bank of Canada held its target for the overnight rate at the effective lower bound of 0.25%, with the bank rate at 0.5% percent and the deposit rate at 0.25% percent.
"The bank is maintaining its extraordinary forward guidance, reinforced and supplemented by its quantitative easing (QE) program, which continues at its current pace of at least $4 billion per week," the BoC said.
The BoC cited the mass roll-out of effective COVID-19 inoculations along with further fiscal and monetary policy support as major factors contributing to a more positive medium-term outlook for growth, hence the rate hold.
"Beyond the near term, the outlook for Canada is now stronger and more secure than in the October projection, thanks to earlier-than-expected availability of vaccines and significant ongoing policy stimulus," the central bank said. "Consumption is forecast to gain strength as parts of the economy reopen and confidence improves, and exports and business investment will be buoyed by rising foreign demand."
The impact of the second wave of coronavirus infections cannot be understated, however.
"Canada's economy had strong momentum through to late 2020, but the resurgence of cases and the reintroduction of lockdown measures are a serious setback," the BoC warned. "Growth in the first quarter of 2021 is now expected to be negative. Assuming restrictions are lifted later in the first quarter, the bank expects a strong second-quarter rebound."
Taking into account the projected weakness of near-term growth and the protracted nature of the recovery, the bank said the Canadian economy will continue to require "extraordinary" monetary policy support, adding that "the Governing Council will hold the policy interest rate at the effective lower bound until economic slack is absorbed so that the 2% inflation target is sustainably achieved."
In its January Monetary Policy Report, the central bank estimated global growth to average just over 5% annually in 2021 and 2022, before slowing to just under 4% in 2023.
"Global financial markets and commodity prices have reacted positively to improving economic prospects," the BoC said. "A broad-based decline in the US exchange rate combined with stronger commodity prices have led to a further appreciation of the Canadian dollar."
The bank's next policy announcement is scheduled on March 10.
by Ephraim Vecina 20 Jan 2021
https://www.mortgagebrokernews.ca/news/boc-stands-by-0-25-rate-in-first-policy-announcement-for-2021-337068.aspx?utm_source=GA&utm_medium=20210120&utm_campaign=MBNW-Breaking-20210120&utm_content=CAB225E9-A56E-4453-BA7A-30CBD695B619&tu=CAB225E9-A56E-4453-BA7A-30CBD695B619