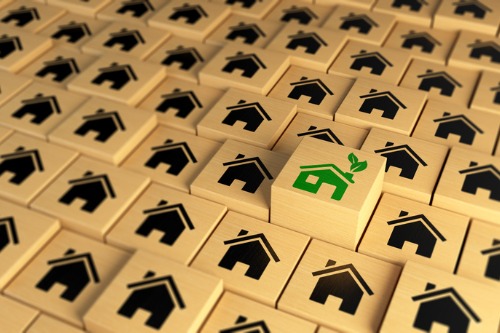 Canada's housing agency, which has over $190 billion of mortgage bonds outstanding, is working on a new framework that will allow it to sell sustainable-labelled debt joining governments around the world that are putting the environment at the core of their recovery plans.
David Ayre, treasurer at the Canada Mortgage & Housing Corp., said securities that meet the environment, social and governance criteria would potentially include affordability-linked mortgages, as well as those associated with energy efficiency and low-carbon residential properties.
"We are actively working with our industry partners," Ayre said by email.
CMHC, with almost CA$300 billion of assets, is taking Ottawa's lead in promoting environmentally-friendly activities to meet targets on carbon emissions and sustainable growth. Prime Minister Justin Trudeau's government introduced legislation on Thursday setting emissions reduction targets for Canada to achieve its net-zero pledge by 2050.
Canada's government itself has never sold sustainable bonds but there are signs it may be under consideration. The Bank of Canada, which manages domestic government debt auctions, is canvassing bond dealers and investors to gauge their interest for potential green bond issuance.
In the US, the government-sponsored enterprises Fannie Mae and Freddie Mac have been selling green bonds for years. Last month, Freddie Mac priced a sustainable bond transaction.
CMHC's sustainability framework will be part of government-guaranteed issuance programs known as National Housing Act Mortgage-Backed Securities and its Canada Mortgage Bond program, Ayre said.
While the agency sells bonds in Canadian dollars, a significant portion of its investor base is comprised of foreign investors. For instance, its sale Wednesday of CA$4.25 billion of 10-year bonds and another CA$2 billion of floating-rate securities saw international buyers take about 40% and 10%, respectively, he said.
Canadian dollar-denominated securities, especially those rated at the highest investment grades, benefit from demand from domestic as well as international investors. That's partly because out of $12 trillion of foreign exchange reserves, the equivalent to $213.5 billion are assets denominated in loonies, according to International Monetary Fund data from the first quarter.
CMHC has raised CA$47.5 billion so far in 2020, after Wednesday's deal, of up to CA$60 billion projected by the agency, Ayre said.
https://www.mortgagebrokernews.ca/business-news/canadas-housing-agency-eyes-massive-sale-335481.aspx?utm_source=GA&utm_medium=20201120&utm_campaign=MBNW-Breaking-20201120&utm_content=CAB225E9-A56E-4453-BA7A-30CBD695B619&tu=CAB225E9-A56E-4453-BA7A-30CBD695B619