Soaring sales activity in Metro Vancouver, combined with unprecedented housing demand in the outskirts of several urban markets, continue to drive a white-hot pace of housing transactions in British Columbia, according to the province's foremost real estate professionals' group.
by Ephraim Vecina 18 Mar 2021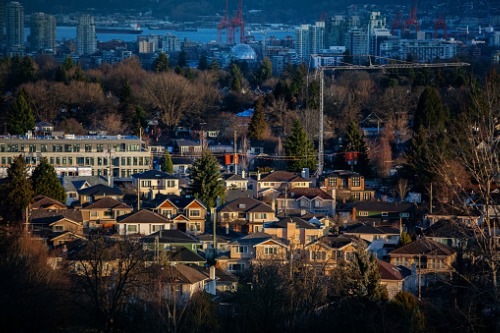 The British Columbia Real Estate Association (BCREA) reported a total of 10,918 home sales in its jurisdiction last month, representing an increase of 89.1% from February 2020. This also outstripped the previous record for that month, which was set in 2016, by more than a thousand transactions.
Concurrently, total active residential listings fell 28.7% to 20,185 units, marking the lowest level of provincial active listings on record. BC's average home sales price grew by 17.3% year over year to $889,584, while total sales volume was up 121.8% to $9.7 billion.
"There is a drought of resale inventory across the province," said Brendon Ogmundson, chief economist at BCREA. "With so few listings, and with so much demand for single-detached homes, average prices have increased dramatically."
Vancouver
The Real Estate Board of Greater Vancouver (REBGV) pointed to intensified competition as the main component in the steadily increasing upward pressure on the region's home prices. The market's residential home sales totalled 3,727 in February, up 73.3% year over year.
New listings increased by 26.1% annually, for a total of 5,048 detached, attached, and apartment homes newly put up for sale. Available listings went down by 9.1% to 8,358 properties.
The benchmark price for Metro Vancouver homes stood at $1,084,000, up 6.8% from February 2020.
"Metro Vancouver's housing market is experiencing seller's market conditions," said Colette Gerber, chair of the REBGV. "The supply of listings for sale isn't keeping up with the demand we're seeing. Competition among home buyers is causing upward pressure on home prices."
Fraser Valley
The market saw its sixth straight month of home sales growth, with the 2,815 transactions last month representing a 108% annual increase. This level was 88% above the 10‐year average for February, and 18% higher than the previous February record set in 2016.
Fraser Valley saw 3,265 new listings in February, up 28% year over year. During the same timeframe, the total active inventory in the region fell to 4,120 units, down 28%.
The single-family benchmark price increased by 19.9% annually to $1,163,400, while townhouse values saw a 10.1% gain to $600,300. Apartment prices ticked up by 5.3% to $450,900.
"This is new territory for us. We have never seen such consistent and persistent demand for housing," said Chris Shields, president of the Fraser Valley Real Estate Board. "What's fuelling the demand is the combination of record‐low interest rates and the response to the pandemic."
Victoria
A total of 863 homes were sold in the region in February, up 53.3% annually. Meanwhile, active listings fell by 38% to 1,318 residences for sale in Victoria last month.
The benchmark price of a single-family home in Victoria grew by 9% year over year to $870,300. Condos remained essentially static at $525,400, with just a slight 0.38% decrease from February 2020.
"Our early spring market is in full swing carrying on from a fast start in January," said David Langlois, president of the Victoria Real Estate Board. "Our market remains one with tightly constrained inventory and high demand. The good news is that we have seen some stabilization in listings and condo pricing between January and February, but we continue to see huge pressure on single family homes – new listings are snapped up as soon as they are listed."
"There is significant competition for desirable homes – and in our marketplace most homes are desirable – and people competing for properties pushes prices up," Langlois added.
Chilliwack
The Chilliwack and District Real Estate Board reported a total of 533 homes sold in February, representing a massive 183.5% increase from the same month a year ago. New listings spiked by 46% annually, while active listings dropped by 44.3%.
The market's average home sales price last month grew by 24.5% annually, ending up at $677,410.
"Part of the reason sales jumped to such unexpected highs was a very welcome surge in new listings returning to the market," said Andrew Verschuur, president of the board. "This helped to keep the market balance from accelerating further into seller's territory for the time being, although conditions remain the tightest in history. Unsurprisingly, price gains continued their double-digit climb."
https://www.mortgagebrokernews.ca/news/how-british-columbias-housing-demand-is-shaping-up-354050.aspx?utm_source=GA&utm_medium=20210318&utm_campaign=MBNW-Newsletter-20210318&utm_content=CAB225E9-A56E-4453-BA7A-30CBD695B619&tu=CAB225E9-A56E-4453-BA7A-30CBD695B619