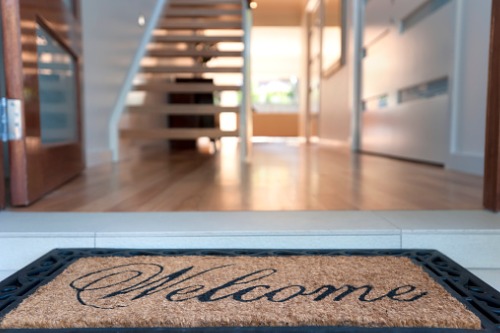 It seems like every day a new tech platform pops up that promises to revolutionize the real estate process for buyers, sellers, borrowers and the people who guide them toward making the right decisions.
One of the most recent entries into the prop tech sweepstakes is real estate technology company Properly, which recently secured $100 million in financing from two U.S. finance firms, i80 Group and Silicon Valley Bank, after the successful launch of its "buy now, sell later" program.
"We've seen a very large amount of demand for our service, and that gets investors pretty excited," says Properly CEO Anshul Ruparell, adding that the initial popularity of the program signals an "opportunity to affect some real change within the Canadian real estate industry."
Properly is essentially a "guaranteed sale" platform aimed at helping current homeowners purchase new properties without needing to stress about also selling their current ones. The unexpected housing boom that grew out of the COVID-19 pandemic has meant that homes in most major Canadian cities aren't staying on the market for long, but the prospect of carrying two mortgages, even if only for a month or two, is a headache most would gladly avoid.
As Ruparell explains, the process begins when a homeowner approaches Properly and the company, using proprietary automated valuation models, provides a "back-up offer" – the price Properly agrees to pay the seller if the property doesn't sell on the market in 90 days. The seller can then take Properly's offer to their lender, who Ruparell says "would treat it like cash" and extend the financing needed to buy their next home.
"Given that Properly provides a firm Purchase and Sale Agreement that can only be cancelled with mutual agreement, there's not much difference between it and a traditional Agreement," says Equitable Bank vice president Paul von Martels.
Because lenders view Properly's valuation as a firm offer, Ruparell says "the bank can provide you with an approval on a mortgage for a new home, as well as a bridge loan that allows you to unlock the equity from your existing home upon a successful sale. So the customer can use a bridge loan, whatever savings they have to put towards the down payment, as well as this new mortgage, to close on the purchase of the new home."
The automated valuation model, Ruparell says, takes into account "dozens and dozens of factors" and is tested against "hundreds of thousands of home sales historically." He says that, on average, the model's predictions are "about 99 percent accurate."
Still, AVMs aren't a hit with all mortgage brokers.
"I don't agree with them, although they do make my job easier," says iSask Mortgages' Chris Kolinski. "A house is only worth what someone is willing to pay."
Kolinski's criticism is that AVMs may not have the requisite insight to compare similar homes with minor, but significant, differences.
"In the case of two similar homes with finished basements, one with low-end finishes and one with high-end, how does an algorithm decipher the difference without it actually seeing it?" he says. "The house with higher-end finishes in the basement should sell for me. But the AVM wouldn't tell you that. A human appraiser could, though."
With the sale "guaranteed", sellers can then move on with the purchase process unencumbered. Once a new home is found and closed upon, the existing property is listed on the market. If it doesn't sell within 90 days, Properly purchases it from the seller. If it sells for more than the price paid to the customer, Ruparell says the company refunds "any upside" from the final sale to the seller.
What's it cost?
Here's where things get a little more interesting for sellers. Properly's cut is five percent on the sale, which includes costs related to repairs, staging, cleaning and photographing the listed property. That five percent also includes costs associated with whatever bridge financing a seller may need access to.
"While Properly doesn't provide the bridge loan ourselves, we do pay for the interest costs associated with the bridge loan, as well as the costs associated with the mortgage interest and principal costs on the existing home until it has been sold," Ruparell says, adding that customers can take their Properly contract to any Canadian bank. The company has created a partnership with CIBC through which Properly customers get expedited approvals and competitive rates.
Properly's attitude toward commissions is that the amounts real estate consumers typically pay their agents are "relatively high."
"We just believe there should be an immense amount of value provided to a customer if they're going to pay a commission at that level given how high home prices are in places like Toronto and Ottawa and elsewhere," Ruparell says.
"Five percent commission? Yikes," says Kolinski, adding that the difference between a five percent commission and a six percent commission on a $1 million home is $24,000. "Is this common in places outside of the prairies? This might be something that holds them back, unless it is common in [the markets Properly deals in]."
Some may wonder if, by chasing the convenience promised by the platform, Properly users may be sacrificing the level of service associated with more traditional transactions. Ruparell says the company has "years and years and years of real estate experience on the team," including behind-the-scenes experts who assist Properly agents with the marketing and staging of properties.
Realtors and mortgage brokers are likely sceptical of any service that might further diminish the role of flesh-and-bone professionals in real estate transactions, but Ruparell sees it as one more tool they can use to help their clients get what they want.
"As it relates to mortgage professionals, it can be a pretty valuable service to inform their customers about because we can help them get into that new home even if they haven't actually activated the selling process yet," he says.
"I like what Anshul and the team at Properly are doing," von Martels says. "It solves a common pain point in the home purchase process using a digital approach that's been proven – and evolved – in other geographies."
While Kolinski says tech like Properly may be seen as a threat to real estate professionals with an "old-school mentality", becoming more familiar with the constant stream of new tools hitting the marketplace is an opportunity for agents and brokers to up their game.
"Agents that embrace technology will thrive," he says. "Agents need tech as much as homebuyers and sellers do." 
https://www.mortgagebrokernews.ca/news/is-tech-startup-properlys-buy-now-sell-later-program-too-good-to-be-true-334010.aspx?utm_source=GA&utm_medium=20201011&utm_campaign=MBNW-Weekend-20201011&utm_content=CAB225E9-A56E-4453-BA7A-30CBD695B619&tu=CAB225E9-A56E-4453-BA7A-30CBD695B619