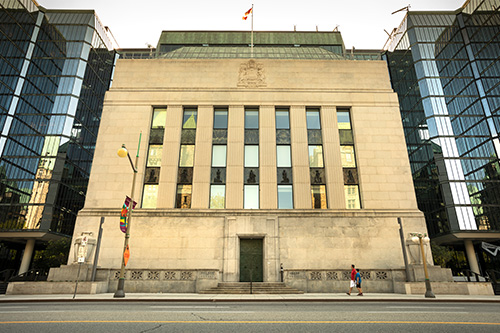 Bank of Canada Governor Tiff Macklem said in a video conference last week that further rate cuts remain an option in providing economic stimulus.
At present, the central bank's policy rate is at a historic low of 0.25%.
"We are not actively discussing negative interest rates at this point but it's in our toolkit, and never say never," Macklem said.
The timing of the statement made perfect sense, according to Derek Holt, head of capital markets economics at Bank of Nova Scotia.
"He's putting the concept back on the table if downside risks intensify," Holt told Bloomberg via email.
This represented a softening in the governor's stance. Upon taking the central bank's helm earlier this year, Macklem said that sub-zero rates will significantly disrupt the Canadian financial system.
The possibility of negative rates was floated a few years back, when the bank was reviewing its options.
However, the policy steps taken so far to help the economy weather the pandemic have made the financial system more susceptible to future volatility, Macklem said.
"Without the fiscal and monetary policy actions, the economic devastation of the pandemic could have been much, much worse," Macklem said. "[But] as much as a bold policy response was needed, it will inevitably make the economy and financial system more vulnerable to economic shocks down the road."
Macklem said that the bank is keeping a close eye on the national credit environment, despite most Canadians having resumed regular payment schedules as banks' mortgage deferral programs ended.
A potentially major failure point will be sufficiently large credit losses that will force banks to impose stricter controls on borrowing, Reuters reported.
"If this happens, our banking system would go from being a tailwind that supports recovery to being a headwind," Macklem said.
https://www.mortgagebrokernews.ca/news/negative-rates-down-the-line-are-possible-says-bocs-macklem-334096.aspx?utm_source=GA&utm_medium=20201013&utm_campaign=MBNW-Newsletter-20201013&utm_content=CAB225E9-A56E-4453-BA7A-30CBD695B619&tu=CAB225E9-A56E-4453-BA7A-30CBD695B619