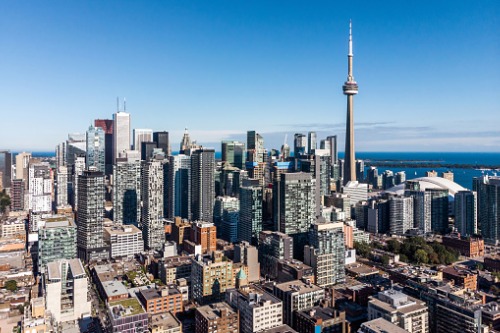 Ontario housing markets started the year with significantly tighter conditions compared to January 2020, a trend that resulted in double-digit growth in home prices, the Canadian Real Estate Association reported in its latest wide-ranging analysis.
Nationally, the number of new listings fell by 13.3% on a month-over-month basis in January. This accompanied a 2% monthly and 35.2% annual increase in sales volume, with the seasonally adjusted activity ending up at an annualized pace of 736,452 units.
The national aggregate benchmark price also grew by 1.9% monthly and 13.5% annually to reach around $669,000.
CREA reported a pattern of declines in Ontario markets, which aligned with predictions that saw sales in the province dipping to start the year due to a lack of available inventory and the fact that many of this year's sellers may remain on the sidelines until spring.
Toronto
Data from the Toronto Regional Real Estate Board indicated that new listings in the market were up by 20.2% annually in January, amounting to 9,430 properties. Active listings, however, ticked down by 4.8% during the same time frame, representing 7,396 homes.
Toronto home sales swelled by 52.4% year over year to reach 6,928 transactions in January. Strong segment performances were seen across all major asset classes, including condos , both in Toronto and its surrounding regions.
The average sale price in January, $967,885, was 15.5% higher than a year before.
"Price growth was driven by the low-rise market segments, while the average condo apartment price was down in Toronto," the TRREB said. "However, if we continue to see condo sales growth outstrip condo listings growth, we could start to see renewed growth in condo prices later this year."
Ottawa
Compared to January 2020, the nation's capital saw 43% fewer properties hit the market last month, which led to a "brisk pace" for the market, according to the Ottawa Real Estate Board. Sales activity surged by 24% over the same period.
"We would have certainly seen higher sales numbers if there were more properties available because the demand is definitely there," said Debra Wright, president of the OREB.
The average sale price of residential properties rose 31% year-over-year to reach $677,197, while condominiums saw their average value grow by 13% to $380,336.
Mississauga
With a 21.2% annual increase, the market saw its number of new January listings hit its highest level in five years. Active residential listings also experienced a 7.6% gain during the same time frame.
In its report, the Mississauga Real Estate Board said the number of homes sold in the region in January swelled by 44.6% annually, reaching a decade-high of 635 transactions.
"The rising momentum in home sales from last year rolled over into 2021, with activity in January reaching the highest level for the month in over 10 years," said Asha Singh, board president. "New listings rebounded in tandem with sales when the housing market recovered last year, so the Mississauga area is much better positioned in terms of supply compared to most other markets in Southern Ontario."
The market's benchmark price for single-family homes increased by 15.3% year over year to $1.172 million. The average sales price last month, $890,020, grew by 13.8%.
London
Sustained demand has led to dwindling inventory in the London region.
"At the end of January, there were 0.8 months of inventory across the entire LSTAR area, slightly higher than in December, but still at one of the lowest levels in the past 10 years," said Jack Lane,
2021 president of the London & St. Thomas Association of Realtors.
St. Thomas only had 0.5 months of inventory remaining, while London's and Strathroy's had only 0.7 months, Lane said.
The market's benchmark price in January rose 5.7% gain over December's, reaching $511,500 and surpassing the $500,000 mark for the first time. The aggregate average price for LSTAR's entire jurisdiction reached a new high of $607,431.
Hamilton-Burlington
The Realtors Association of Hamilton-Burlington reported a 47.3% month-over-month increase in new residential listings, but on an annual basis, new supply was actually 16.2% lower. Active listings fell by 53.2% from their January 2020 levels.
The average home price grew by 27.6% annually to reach $787,840 last month.
"We saw an increase in sales activity last month, compared to January 2020, despite a decline in new listings," said Donna Bacher, RAHB president. "Our sales-to-listings ratio of 81.6%, second only to January 2017, tells us that the RAHB market area is firmly in a seller's market. This year's decline in new listings builds off the back of the pre-pandemic drop in new listings and inventory levels we experienced in January 2020."
by Ephraim Vecina 18 Feb 2021
https://www.mortgagebrokernews.ca/news/ontario-home-buyers-felt-the-sting-of-low-inventory-in-january-337904.aspx?utm_source=GA&utm_medium=20210218&utm_campaign=MBNW-Newsletter-20210218&utm_content=CAB225E9-A56E-4453-BA7A-30CBD695B619&tu=CAB225E9-A56E-4453-BA7A-30CBD695B619