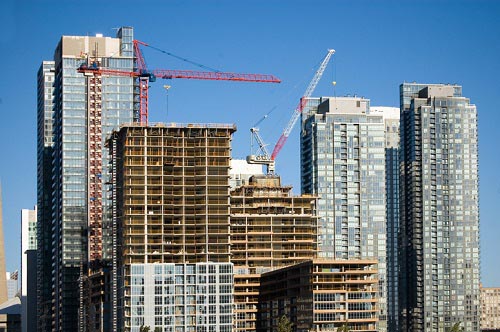 It didn't take long for newly elected US president Joe Biden to start exercising his executive authority by sandblasting a host of Trump's policies. But one of his first acts in office, reversing Trump's 1997 approval the Keystone XL pipeline, a project that would have delivered 800,000 barrels of oil a day from eastern Alberta to Nebraska, could have a material impact on Alberta's economy – and housing market – as well.
According to information provided to Mortgage Broker News by Canada Mortgage and Housing Corporation, Keystone was estimated to add $2.4 billion to Canada's GDP in the pipeline's first year of operation. The Alberta government estimated that, over the next two decades, KXL would generate $30 billion in revenue for the province, capital that could have been used for the kind of valuable, job-creating infrastructure projects that tend to juice housing demand.
BMO chief economist Douglas Porter says that while the near-term effects, including the layoff or more than 1,000 pipeline workers, are "reasonably clear", the long-term impact is, at this juncture, are difficult to gauge.
"The ultimate impact depends on how oil production evolves in Alberta in the years ahead and what happens to the other major pipelines (notably TransMountain)," Porter told MBN by email. "If production continues to grow, and pipeline capacity doesn't keep up, the absence of XL points to ongoing pressure on the pricing of Alberta oil. However, if production stabilizes or doesn't grow much, and new pipeline capacity comes on-stream, then the overall impact may not be nearly as negative longer term."
But what of the province's real estate market, which has been soft as warm cheese since approximately 2015? With so many investors in the city dependent on rental income to cover their mortgages, and so many recent buyers patiently waiting for the day when they will actually have an iota of positive equity in their properties, does the cancellation of a project that would have supported the province's main economic driver not pose a threat to the stability of the Alberta housing market?
Most experts say 'no'.
"Record-low interest rates, heavy government income supports, and the increase in household savings have been a powerful tonic for housing markets across the country, including Alberta," Porter said, adding that the "biggest concern about near-term ripples in housing would be the impact on sentiment."
Porter believes high vacancy rates, a weak job market, and low immigration will cause the province's housing market to "continue to lag", but realtors in Calgary and Alberta are optimistic about the future. You don't ride a rollercoaster without developing a strong stomach.
Brett Turner, realtor at Redline Real Estate, with several investment properties in Calgary, told MBN that many in Alberta believed the cancellation of KXL was a done deal the moment Biden's win was certified. He said he has witnessed no panic among his clients regarding their ability to make their mortgage payments.
"That wave happened in 2016," he said. "Anyone that panicked about being over-leveraged and not positioned for cash flow got out then. This is the second time Keystone has been cancelled, so it's just not cutting as deep as people might expect."
According to Mark Herman of Mortgages Are Marvellous, "pretty much anyone" who purchased a home in Alberta in the last five years has been dealing with decreasing home prices. Most buyers who put 5% or 10% down on their homes, he told MBN, are now underwater.
"But they 'need to live somewhere', and things are good enough that they can still make their mortgage payments," Herman said. "Owning still lets you have pets, paint the walls, and turn the music to 11 when you want to. This is a temporary part of the standard eight-year Alberta business cycle and most are used to it now."
Tiffany Young, who operates real estate investment group Investor Life in Edmonton alongside her realtor husband, and who has been investing in Alberta for 18 years, shares the realist view.
"This announcement is quite similar to maybe 50 others we've had over the years, where it seems like it's going to be a massive deal, but really, when we look at the overall view of it, it's really not," Young said, adding that the sentiment among her investor associates in the province remains positive.
"I think there are going to be a few small towns that are going to definitely feel it, and probably already have been. But overall, a lot of the work was going to be in the US, and the benefits weren't going to be felt in Alberta for a few years anyway," she said.
Herman, however, feels that the end of KXL will eventually be felt in downtown Calgary, "where the pipeline engineers, skilled workers, and office workers will have fewer projects to handle."
He also thinks gamblers in the province's short-term rental market could be headed for a bust if international travel doesn't resume.
"We have many Airbnb owners that are having a tough time with covering mortgages," Herman said. "A typical example is making $3,800 per month on an Airbnb rental pre-COVID, and now making less than $1,000. The travellers for business and holidays are not there with the lockdown."
And while homeowners may not suffer any ill effects of Biden's Keystone plug-pulling, there will be lost opportunities for the province's mortgage brokers.
"We do notice, when there are many projects going on, that we get calls from professionals who have relocated for work and that they buy larger, executive-style homes," Herman said.
Two years ago, when the Trans Mountain Pipeline Expansion project was given approval, Herman said that he received two calls from new buyers anticipating TMX's approval within two hours of the announcement.
"We funded more than $6 million in mortgages in less than three weeks for employees at the companies involved," he said.
The near-term future of Alberta's real estate market
Both Young and Turner say the good outweighs the bad when it comes to Alberta's real estate fundamentals.
"Calgary's population is growing faster than Canada's, and is tied for fourth-fastest in the country, ahead of Vancouver, Toronto, and Montreal," Turner said. "We have low rental stock here, so investors that purchased properly are enjoying solid occupancy and low vacancy right now."
Young's optimism for the housing market stems in part from Alberta's rapidly diversifying economy.
"Over the last seven, eight years, we're more diversified, not only in different industries, but in oil and gas," she said. "We're really getting into this green energy stuff in Alberta, where these companies are having to switch gears."
Alberta's mortgage pros should have plenty to keep them busy in 2021. But if they need more business, Herman says there's always work to be had in Calgary's previously oversaturated condo sector.
"In 2020, we did a record number of condos, and there are 4,000 condos under construction in Calgary right now," he said. "If brokers love doing two times the work for smaller condo mortgages, that entire messy ball of string – meaning the documents – can be unwound just enough to hang yourself with."
by Clayton Jarvis 01 Feb 2021
https://www.mortgagebrokernews.ca/news/what-the-keystone-xl-cancellation-means-for-alberta-real-estate-337386.aspx?utm_source=GA&utm_medium=20210201&utm_campaign=MBNW-Newsletter-20210201&utm_content=CAB225E9-A56E-4453-BA7A-30CBD695B619&tu=CAB225E9-A56E-4453-BA7A-30CBD695B619